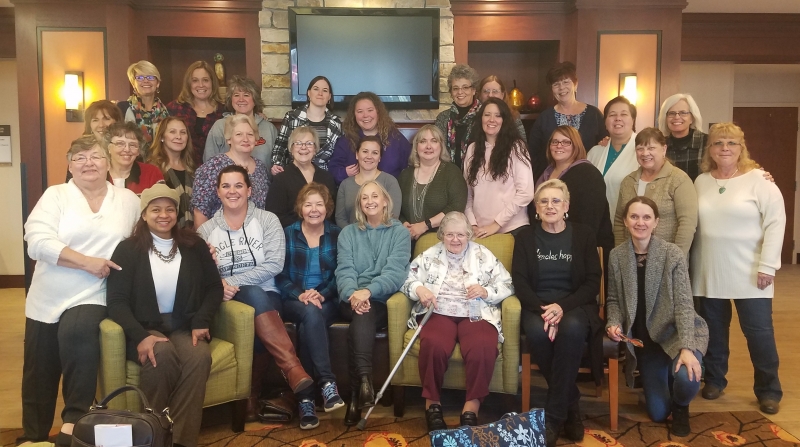 Our purpose is to evangelize, embrace, empower, equip and lead women
into wholeness and completeness with Jesus Christ.
Women's Bible Study
Sunday Mornings 9:00 – 9:45 AM
Meets in the Nursery Room
Led by Joanne Yoho
A Scripture and spirit-led study on hearing what God wants to say through His good word. Bible needed.
Prayer Group
1st and 3rd Thursdays
12 Noon
Meets in Church Foyer
Women's Bible Study – Brokenness
Thursdays from 7:00 – 8:30 pm (thru Dec. 5th)
Meets in Calvary's Conference Room
This is a six week series on Brokenness: Broken people that God used in the Bible and how God can use broken people like us. Different aspects of brokenness will be studied – physical, emotional, spiritual and broken by circumstances.
There will be a time of worship, teaching and prayer. Study is all from the Bible.
Women's Book Club
2nd Fridays at 7:00 PM
Meets in various homes.
We meet once a month, usually the second Friday, at either the church or in a home. The book is chosen by the hostess for the month.
All are welcome to  join us and read some awesome books!
1st Tuesdays
Meets the 1st Tuesday of the month
7:00 Meets in various homes.
Enjoy some time of connecting with friends, old and new, who desire to seek a deeper relationship with God. A mini-Bible study is shared each month. We invite all women to join us and be lifted spiritually as we encounter God's Word and experience encouragement from others.
G.R.O.W. Mom's Group – God Renewing Our Women
Meets the 2nd and 4th Tuesdays of the month (Sep-May)
9:00 – 11:00 am
Meets in the church Foyer
Babysitting is provided!
What happens at G.R.O.W.? We start off with breakfast and a time of fellowship, a devotion or Bible study to help us GROW in our faith, and end with a craft time where we make some awesome stuff.
Upcoming Events